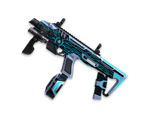 Warface is a free multiplayer online shooter developed by the world famous company Crytek.

Combat effectiveness
The Micro-Roni CAA submachine gun will definitely appeal to players due to its high damage, soft recoil, a bulky magazine for 60 rounds and excellent hip accuracy. The golden version of the weapon will have the highest in-game accuracy of shooting from the hip and increased magazine capacity. You can install several modules on the Micro-Roni CAA, including three unique ones: Micro-Roni CAA laser sight grip - significantly improves accuracy when shooting from the hip, slightly reduces recoil, and slightly reduces the shaking of the sight; Micro-Roni CAA special handle - slightly increases accuracy when shooting from the hip, reduces recoil, reduces shaking of the sight; Hartman MH1 - fast 1.4x sight.

Virtues
• High damage.
• Availability of unique modules.
• Excellent hip accuracy.
• Good shooting accuracy in sight.
• Good range.
• Big store.

After the purchase you get:
✅ Micro-Roni CAA Syndicate Forever

Delivery: Electronic pin activation code in text form (XXXXX-XXXXX-XXXXX-XXXXX-XXXXX).
1. After payment, within 10 seconds you are automatically transferred to the page with the purchase, where you receive your goods.
2. Also, after payment you receive the goods you purchased by mail which you specify when purchasing.
Delivery time: Instant emailing.
Game: Warface
✅ Activate until: 10/01/2019
Activation:
1. If you are not yet registered in the game, then go through the registration first.
2. Activate it on the game website:
https://wf.mail.ru/pin/activate
3. Enter the code in the code field and click "Activate".
We recommend to activate within a month.
No feedback yet