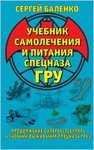 NEW BOOK from the author of the super-bestseller "Survival textbook of the Special Forces of the GRU", which has already withstood 14 reissues, which is an absolute record! Hundreds of thousands of users of this encyclopedia have long been asked to supplement it with vital information about self-medication and nutrition under extreme conditions. And here is a new textbook in your hands.
Modern people usually do not have to rack their brains to satisfy hunger and thirst. Having fallen ill, he will seek help from a doctor. But what if you were away from shops and pharmacies? What if you are sick, and there are no hospitals, doctors, ambulance? This tutorial can save you health and even life.
"Originally, this book was planned as a continuation of the" GRU Training Specimen Survival Textbook ", as a training manual for special forces servicemen for treatment and nutrition. However, the potential audience of this publication is much broader. This is a practical guide to phytotherapy not only for SWAT fighters, but also for tourists and travelers, hunters and fishermen, who may find themselves in extreme situations. This textbook summarizes the invaluable experience of domestic and foreign elite units, as well as practitioners - doctors, biologists, zoologists, botanists, professional rescuers - that will help you survive and return from the most dangerous campaigns ..
File (fb2) 11 Mb, cloud mail.ru
No feedback yet