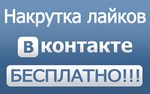 After payment, you will receive more than 200 likes on any entry in the social network VKontakte.
The price is very cheap, almost for nothing. Much cheaper than others.
It can be a picture, an entry on your page, or on a community page - anywhere.
Depending on the load, the order is executed from several minutes to several hours. After the end you will receive a notification.
If you need a different number of likes, or with other suggestions, you can contact me.

Immediately after payment you will receive a form to fill in the registration data, in which you will have to fill out the following fields:
- The e-mail address (email);
- a link to the post VKontakte;
These data will be transferred to the seller to complete the purchase and sale of the goods.

04.07.2020 22:31:55
Отличго
12.12.2019 20:30:19
Все хорошо и отлично,быстро))
16.07.2019 17:22:37
супер
30.04.2018 13:30:57
накрутка идет! но крутит одних мертвых собак. не советую покупать ....
13.02.2018 13:07:03
Отлично
17.12.2017 11:54:07
Все гудд топовый челик
27.09.2017 13:14:11
Отлично, всё классно!
27.09.2017 13:13:57
Всё супер