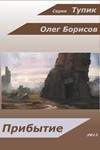 It is an alien world after the war. Nuclear, chemical, biological. The war of all against all. With no chance of survival. Without the right for the future ... But he had no choice. There is no right to kill. There is no right to die. He needs to go home. To survive in battles with the mutants and cyborgs battle. Do not die from disease and rodent body infection. In spite of all the troubles of another world. Come back home…

But where is your house, the soldiers?
Book formats FB2, EPUB. To use the reader reading books for these formats.
19.11.2015 13:59:33
Приятно было получить книгу автора воспользовавшись вашим магазином