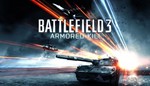 IMMEDIATELY AFTER PAYMENT, YOU RECEIVE THE ACTIVATION KEY OF BATTLEFIELD APPROVAL 3: Armored Kill.

* The key you will receive in your personal account http: //www.oplata.info. Also the link to the page with the key will come to your e-mail specified at purchase

 attentionATTENTION !!! BATTLEFIELD GAMES NEEDED 3 </ attention>

Languages: Čeština, Dansk, Deutsch, English US, Español España, Suomi, Français, Magyar, Italiano, 日本語, 한국어, Nederlands, Norsk, Polski, Português Brasil, Русский, Svenska, 繁體 中文
Region: Whole World
Activation: Origin
..........................................................................................

***** Description of the game ****

Prepare for destruction at full speed. This addendum presents new manned tanks, ATVs, self-propelled artillery and much more. In addition, in it you are waiting for huge battlefields for large-scale battles of technology - including the largest map in the history of Battlefield.

Armored Kill is one of the five additions included in Battlefield 3 Premium. If you already have Battlefield 3 Premium, you will automatically gain access to this content.

Key Features:

Participate in full-scale battles of technology. Ride, fly and sow destruction on four new maps - including the largest map in the history of Battlefield.

Point on the target and squeeze everything out of the technique. Manage five new types of equipment, including tank destroyers, self-propelled artillery and quad bikes - or stand up to guns in gansheep.

Try a new, difficult mode. It´s time to bring heavy artillery into battle in the new mode of "Superiority on the tank." Perform a combat mission, controlling large tanks and powerful tank destroyers.

•••••••••••••••••••••••••••••••••
➨ For positive feedback we give BONUS - GAME!
Each customer leaving a positive review is guaranteed to receive a Gift Game with activation in STEAM.
* BONUS distribution is carried out within 48 hours after the writing of the response.
The bonus will be sent to you at the POST which you indicated when making the purchase (in the recall, you do not need to specify the mail)
••••••••••••••••••••••••••••••••••••••••••••••••••••••••• ••••••••••••••••••••••••••••••••••
Activating the key:
1. Download and install the Origin program (
http://www.origin.com/download
).
2. Start Origin.
3. Select the interface language and the location where the game will be installed.
4. Go to the "Origin-Activate Product Code" section.
5. Enter the key. After that, the game will appear in the library of games, where you can download and play it.
26.02.2018 0:20:01
Спасибо, все отлично) пришло моментально!
11.11.2017 0:22:20
Пришло всё моментально, спасибо большое.