Content: wordpress-ekspress.pdf (1.80 MB)
Uploaded: 21.11.2014

Positive responses: 0
Negative responses: 0

Sold: 2
Refunds: 0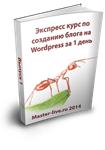 This e-book in pdf. "Express Course to create Wordpress blog for one day," it is not just for those who want to create a blog on WordPress alone. This rapid rate and will help those people who are going to entrust the job specialist. The book revealed the secrets of many webmasters on choosing services to buy a domain and hosting. Examples of how to select the host.


Only for you in this book 5 working methods of searching the coolest WordPress. In addition, a list of links to sites where you can choose a worthy subject for his project.


You will get acquainted with the administrative part and easy to get into how to create content and fill the blog, without making traditional all beginners mistakes.


You will get answers to the questions asked by customers to its webmaster. And make no mistake, these problems will certainly appear and you.


Rewards:


6 modern premium the Wordpress.

Feedback and advice.


The idea of \u200b\u200bwriting this book I was given my clients that I do websites. Section of questions and answers based on real working correspondence with them, and with my readers.
Attention! Discount 70%
No feedback yet