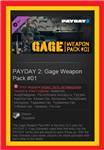 ПОСЛЕ ОПЛАТЫ ВЫ ПОЛУЧАЕТЕ GIFT ССЫЛКУ НА АКТИВАЦИЮ ДОПОЛНЕНИЯ ДЛЯ ИГРЫ В STEAM.

*Данный товар имеет региональные ограничения и может быть активирован в следующих странах:
AM AZ BY GE KZ KG MD RU TJ TM UZ UA
________

The Gage Weapon Pack #01 is the second DLC pack for PAYDAY 2.

Frag Grenades make their first entry into the PAYDAY series and are bound to spice things up. With the new Grenade Case asset, players can share grenades with each other in the heists.

Three new weapons are added and players can now toggle between Single- and Auto-fire with all full auto weapons. Four new animal masks have been added, as well as new patterns and materials.

•The Frag Grenade is now available
•Three new weapons, personal favorites of Gage the arms dealer
•Single fire and Auto fire modifications
•Weapon slots increased from 18 to 72
•Four new animal masks, patterns and materials
•Ten new achievements to unlock
ПОЖАЛУЙСТА, ОСТАВЬТЕ СВОЙ ОТЗЫВ ПОСЛЕ ПОКУПКИ!
ИНСТРУКЦИЯ ПО АКТИВАЦИИ:
1. Необходимо скачать и установить Steam
http://steampowered.com/download/SteamInstall.msi
2. Зайти под своей учетной записью или зарегистрировать новую.
3. Далее необходимо пройти по ссылке, полученной после покупки, авторизоваться под своей учётной записью Steam и принять подарок себе в БИБЛИОТЕКУ или добавить в ИНВЕНТАРЬ.
4. После активации игра появиться в БИБЛИОТЕКЕ или в вашем ИНВЕНТАРЕ, где вы можете уже начать играть или активировать позже/подарить другу.
=============
Уважаемые покупатели - положительные отзывы от Вас поднимают наш рейтинг, тем самым увеличивая наши продажи и тем самым делая возможность снижать для вас цены на наши товары!
=============
P.S. Все гифты покупаются только официальным путем.
==================================
Смотрите также:
==================================
http://bitgoods.ru/item/1634316
- Counter-Strike: Source (Steam Gift ROW / Region Free)
http://bitgoods.ru/item/1587096
- Counter-Strike 1.6 (Steam Gift ROW / Region Free)
http://bitgoods.ru/item/1587050
- Left for Dead 2 (Steam Gift ROW / Region Free)
http://bitgoods.ru/item/1611357
- Terraria - Steam GIFT / REGION FREE
http://bitgoods.ru/item/1600909
- Medal of Honor 2010 (Steam Gift ROW / Region Free)
30.03.2015 10:00:59
спасибо ;)
11.12.2014 16:08:12
Good job
11.12.2014 0:50:48
Good +1