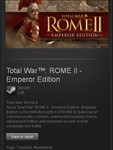 MOMENTAL AFTER PAYMENT, YOU RECEIVE A LINK TO ACTIVATE GIFT
Total War: ROME II - Emperor Edition in STEAM!

WITHOUT REGIONAL LIMITATIONS (Region Free / Rest of World (ROW) / World Wide / MULTI LANGUAGE! Steam Gift)!
========================
Please leave your feedback after the purchase !!
========================
Activation Instructions:
1. You need to download and install Steam
http://steampowered.com/download/SteamInstall.msi
2. Go to your account or register a new one.
3. Next, follow the link received after purchase authorization by their Steam account and take a gift to the library or add to your inventory.
4. After activating the game appear in the library or in your inventory where you can already start to play later or activate / give to a friend.
Our other products:
http://bitgoods.ru/seller/251103
Thank you for choosing our service!
19.11.2017 7:12:55
Все отлично!
18.11.2017 2:11:08
все супер! спасибо
10.11.2017 18:37:18
Сначала сомневался, но потом все прошло успешно! Советую покупать у этого продавца

03.11.2017 22:11:36
Все отлично, получил свой гифт. Благодарен продавцу! :)
07.09.2014 11:01:54
nice!!!
05.09.2014 18:34:56
Хочу подарок
05.09.2014 18:34:30
Хочу подарок
05.09.2014 11:11:34
хочу подарок