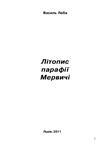 In doslіdzhennі prostezhuєtsya Istoria parafії Mervichі

(Zhovkіvskogo area Lvіvskoї oblastі) on osnovі vivchenih arhіvnih

dokumentіv od davnіh chasіv to 1939 roku. Vihodit 125-rіchchya

mіstsevoї church.


Book prodaєtsya tіlki in Electonics varіantі have formatі FlippingBook pid operatsіynu to Windows.

Pіslya zdіysnennya payment to your E-filed skrinku Buda nadіslano posilannya for zavantazhennya file.
No feedback yet