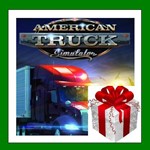 American Truck Simulator - Steam Key - RU-CIS-UA

Warning: The game has territorial restrictions and can be activated only in one of the following countries: Russian Federation, Armenia, Azerbaijan, Belarus, Georgia, Kyrgyzstan, Kazakhstan, Republic of Moldova, Tajikistan, Turkmenistan, Ukraine and Uzbekistan.
19.09.2019 22:03:42
Все пришло спасибо
14.09.2019 0:06:02
Все хорошо!
21.08.2019 12:29:21
спасибо , активировал всё идеально))
15.06.2019 8:17:05
Спасибо большое за игру) всё пришло, продавца рекомендую) ты шикарен)) хочу подарочек)
21.10.2017 4:48:35
всё пришло
можно пожалуйста подарок
30.09.2017 16:21:15
товар получил,загружаю,всем доволен.хочу подарок
08.09.2017 16:51:50
Огромное спасибо. Все пришло сразу. Все быстро и удобно.
04.09.2017 23:19:11
Ключ пришел мгновенно))) Хочу подарок))
10.08.2017 15:26:16
Всё супер) Хочу подарок)