Content: capitaller-faq.zip (484.40 KB)
Uploaded: 20.06.2005

Positive responses: 9
Negative responses: 0

Sold: 78
Refunds: 0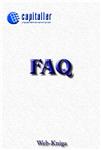 You are missing $ 100 000 to start their own business? Capitaller help to attract additional investment.

Based on materials from the forums:

molot.ru, shareholder.ru, owebmoney.ru


Capitaller (capitaller) is one of the most attractive services WebMoney. Use it to collect the missing money to start their own business. Organize collective confidence online business type cooperative or joint-stock company with the collective decision-making and transparent to all participants in the movement of money. (Stakes) of the Budget Automation can be profitable to trade on the stock exchange shareholder. Today, there are budgetary Machines managed to attract up to $ 100,000 investment.

Unfortunately, the accompanying documentation is incomplete service and accessibility. In this book, I collected the most common questions on forums sounding. In addition to the book section added with a clear description of the "Device" and the principle of Capitaller.

The book will be useful for both novice users WebMoney, and people seeking to use the maximum of what the Internet can provide entrepreneurs. Free trial version can be downloaded for free from the publisher Web-Kniga.

I will answer all the questions.


No feedback yet